I've been aware of ADEX (Asia Dive Expo) for years and have often thought about attending. It's the oldest dive show in Asia, having been around for 22 years now. I'd seen an advertisement back in January and started thinking about it more. At the time though I was more focused on dealing with the aftermath of my heart attack and getting back to diving. Once I was cleared to dive in March, I went on a mini-tour of the Philippines which you can read about here in my blog.
When I returned from Cebu on March 27th I had planned only to edit photos and try to catch up on my blog. I did do some of that. I also spent some time hanging out with friends and just generally relaxing. Maybe a little too much or I wouldn't still be a month behind on my blog!
On Thursday, March 30th I was chatting with a friend in Japan and mentioned ADEX. My friend encouraged me to go. I had thought about attending in previous years… why not now? I pulled up the Cebu Pacific website and bought a ticket on the spot. It was only a $198 dollars 🙂 I decided I would fly on Thursday, April 6th and attend all 3 days of the expo. I reserved a flight back to the Philippines on Monday the 10th.
I'll talk a bit about flying in and out of Clark mainly because it's so much easier than Manila! I'd had a conversation with a taxi driver when I'd returned from Cebu and he'd filled me in on the ways to get back and forth to the airport. A metered taxi was a bit over a 100 pesos to SM Clark or the Main Gate Jeepney Terminal. A private car shouldn't cost more than a couple 100 pesos. 300 without haggling to much. To put that in perspective that's about $6 bucks for 15 minute ride. It turns out there is a jeepney that goes back and forth as well for only 50 pesos… around a buck. At the Main Gate Terminal there is actually a lounge for passengers waiting to go to the airport, although it turns out that it doesn't open till 9 AM. I was there early and took the jeepney! After all, every dollar I save is more money for diving and trips 🙂
My flight was departing at 12:25 PM on Cebu Pacific direct to Singapore so I had plenty of time. I really like flying in and out of Clark as opposed to Manila. Any chance to avoid the traffic in Manila, I take advantage of! I had time to have a cup of coffee before going to check in.
Check in was quick since I had only my carry-on bag. From the check-in counter I headed over to pay my terminal fee. All international passengers pay 600 pesos. From there I went through immigration where they stamped my passport, then through security, where my bag was x-rayed again and I went through another metal detector.
Right around noon they started ferrying passengers out to the plane by bus. Once the plane was loaded we took off a little behind schedule, but they would end up making that up on the flight to Singapore. Cebu Pacific is known as a low cost airline. Part of the savings are in the nature of meals and baggage. They have a base price and then you can add on. In my case, I had a sandwich before boarding the plane and I'd brought a few snacks with me. I had only my carry-on bag since I was just going for the weekend, so I didn't pay for things I wasn't using.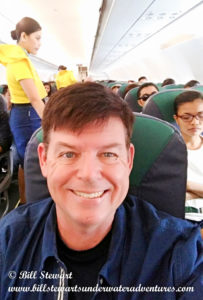 We landed just after 4 PM. The stewardess had passed out D/E (Disembarkation/Embarkation) cards on the flight and I had mine already filled out. Immigration was relatively painless. At the immigration counter I presented the completed D/E card together with my passport to the immigration officer. I was questioned about why I was coming to Singapore and I responded that I was attending the Asia Dive Expo. In Singapore they have a scanner for thumbprints. Once they were scanned she stamped my passport and both portions of the D/E card. The Embarkation portion of the card was inserted in my passport and I was waved on my way.
If you're visiting Singapore for any length of time I highly recommend getting a local sim card and a Smartcard to ride the local buses and trains. They have really great public transportation in Singapore! My phone has dual sim card capability and I still had my sim card from my previous time in Singapore. I had went online and re-loaded it the night before.
I turned my phone on as soon as we were allowed too. I sent a text to my friend Jackie who was picking me up to let him know the plane had landed. After passing through immigration and customs (another x-ray machine there), I passed out and through the doors into the public area of the terminal. Jackie told me to look over the door that exited outside and tell him the number so he would know where I was and I did so. I went outside and stood by the curb and he picked me up. From there he gave me a ride to the same hotel I'd stayed in after I'd left the hospital in December.
I'd also brought my Smartcard that I'd previously had in Singapore. I still had load left on the card and I was able to use it to ride the local buses and trains. It's very convenient and much easier than paying cash for each ticket. You can purchase them from any General Ticket Office or Passenger Service Center. I use data extensively when I'm in Singapore. I access Google Maps on my smartphone, put in the address, and it tells me which bus to catch, where I can get on, and where I should get off, along with a map and how far I should walk. Very simple!
The next morning I was up early so I could have breakfast. I went to one of my favorite restaurants in Singapore, Tolido's Espresso Nook before heading to Suntec Singapore Convention and Exhibition Centre. It was a great breakfast as usual… probably the reasons I keep eating there 😉
Before coming I'd tried to buy a couple of shirts online at the ADEX 2017 website. The shirts included free entry to the expo. Unfortunately there had been glitch and I couldn't complete my order because they didn't have an option to pick the shirts up at the expo. I didn't want the shirts sent to my US address since I won't be returning to the US before July! I went to the desk and was escorted inside where I not only was able to purchase my shirts, but also received some free goodies as well. Afterwards I started walking around the expo checking out all the latest dive gear, meeting people from various manufactures, and talking to people from different dive operations, and chatting with people representing different environmental and ecological causes related to our oceans.
What I enjoy about these types of events is the opportunity to meet and socialize with so many people who love the same things you do. There were literally thousands of people there who all shared a love of diving and the ocean!
I ended up doing a lot of walking over the weekend and met lots of nice and interesting people. I had the chance to attend some interesting photography seminars and see some presentations on areas of the world that I've been thinking about diving.
On Friday I met Amelia Lassetter (Mermaid Amelia) who is a professional mermaid and photographer from Australia; and Jessica Bell (Mermaid Jessica Pearl) who along with being a mermaid is also an accomplished free diver, photographer, and artist. Together they are The Perth Mermaids. Their website is: http://www.perthmermaids.com/ Very nice ladies and I had a great conversation with them. They encouraged me to visit Perth and experience some of the great scuba diving there. I also briefly said hello to Alexis Vassal from France (Merman Arion).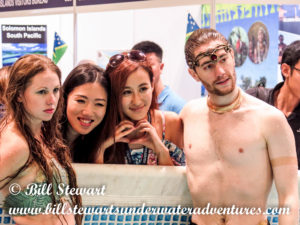 I also finally met Mike Veitch, one of the co-founders of Underwater Tribe and a quite famous underwater photographer. He won the "World in Our Hands" Award at the BBC Wildlife Photographer of the Year in 2013. Find him on the web at www.mikeveitchblog.com/ It was quite entertaining that we both immediately recognized each other even though it was our first time meeting in person after knowing one another for 10 years online. I love Mike's work and it was great to meet him finally! We met in the Philippine Paradise Divers forum on scubaboard.com years ago when I first started diving the Philippines in 2007. I also met Luca Vaime who works with Mike. Luca did a couple of great presentations at the expo. On Friday he did "The A-Z of Preparing a Filming Project" and on Sunday a presentation on "Photographing and Filming the Reef". Their website is http://www.underwatertribe.com/
One of the interesting people I met was Bart Lucasik. Bart was at the "Africa is not for Sissies" booth and I had the opportunity to chat with him for a bit about Africa a place I've wanted to visit and dive for a while now. We had a great conversation and I was able to attend his presentation on Saturday morning where he did a talk titled "The Lagoon-Shallow Water Diving in Search of the Weird and Amazing Creatures". It was quite interesting. Africa is a place that is still high on my list! Bart has spent the last 5 years diving and filming in Africa. Great presentation! Their Facebook page is https://www.facebook.com/AfricaIsNotForSissies/
One highlight for me was the opportunity the first evening to see Rob Stewart's film "Revolution. I'd not had the opportunity to see it before and I can tell you that in the same way that Sharkwater opened peoples eyes to the tragedy of shark finning, Revolution is still opening peoples eyes to the dangers of overfishing, ocean acidification, and climate change. I don't think anyone could walk away after watching the film and not feel touched! I encourage you to seek out more information, starting with visiting the website at http://therevolutionmovie.com/
On Saturday I met Marty Snyderman, who is an Emmy Award winner for his underwater cinematography work and is also the Marine Life Editor at Dive Training magazine. I'm a big fan of Marty's work. He gave a really interesting talk on Histograms and I walked away feeling like I finally had a grasp on it (I came to digital photography quite late 😉 ). His website is: http://www.martysnyderman.com/
Iris Baula one of my friends from the Philippines and another alumni of the Philippine Paradise Divers group on scubaboard.com showed up on Saturday. We got to hang out for a while and walk around the show and catch up. It didn't take 10 years to meet Iris 😉   In June 2008, at the end of my third Philippines trip I met many of the members of the Philippine Paradise Divers group from www.scubaboard.com for the first time. Iris is a Marine Biologist and is working in Singapore. Iris also visited me in the hospital when I had my heart attack in November in Singapore while heading back to the Philippines from the US. I can tell you it was nice to see a friendly face 🙂 Iris and Mike have known each other going back to when Mike was spending a lot of time in the Philippines. We hung out at the Underwater Tribe's booth for a bit and chatted with Mike.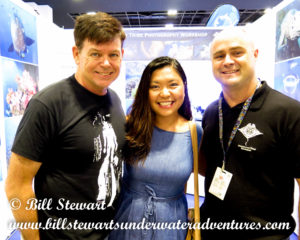 I spent the afternoon on Sunday hanging out with my friend Cindy Madduma, also from the Philippines. Cindy was Miss Scuba International in 2015. She is also a NAUI Divemaster and OceanQuest-Asia Coral Propagation Instructor. You can find her on Facebook at https://www.facebook.com/cindypaciamadduma/ Cindy introduced me to Devina Mahendriyana, Miss Scuba International Indonesia 2016. She is an architect and avid scuba diver. We walked around the Expo and everywhere we went people wanted to pose for a photo with them 🙂 Her Facebook page is https://www.facebook.com/cindypaciamadduma/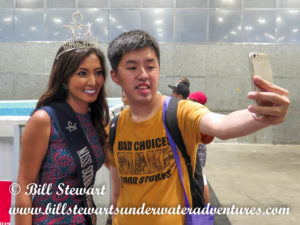 One place we stopped was at the Bali Sharks Rescue Center booth. We spoke with the founder, Paul Friese who spoke very passionately about the work they are doing in Indonesia which has the notoriety of being the number one shark killing country in the world. In 2011 Indonesia exported over 316 tons of shark fins that year alone! The Bali Sharks Rescue Center was founded to combat that. They are doing this through education and the creation of the worlds first rescue and release program. They also have eco-tours in which people can actually interact with sharks at their rescue center. Their website is http://www.balisharks.com They can be found on Facebook also.
On Sunday I also met world-renowned photographer Amanda Cotton. Amanda and I have been Facebook friends for years but this was the first time we had really met. Amanda's work has been published in National Geographic, BBC, Discovery, Smithsonian Magazine, Times Publishing, CNN, Scuba Diving Magazine, Sport Diver Magazine, Natural History Magazine, Earthweek, and Science Daily, as well as any other places. It was great to meet someone who's work has been such a personal inspiration to me!
I was also introduced to Annuar Abdullah on Sunday by Cindy Madduma. He is the founder of Ocean Quest SEA. They have partnered with Sea Shepherd in offering Coral Propagation courses to help rebuild damaged reefs. Again this is very important work and I hope you will take the time to learn more about their program. You can start at their website at http://www.seashepherdglobal.org/dive/coral-courses.html
All in all it was great show. I met and hung out with lots of great people who share my love of scuba diving and the ocean. I attended some great seminars and I got to look at all the latest and greatest gear. I even picked up a few photo accessories to bring back to the Philippines!
Sunday night I hung out with friends. On Monday afternoon my friend Jackie picked me up at the hotel and dropped me at the airport. My flight was at 4:45 PM. We were landing at Clark International Airport in Pampanga at 8:25 PM. A great weekend!
I'm actually less than a month behind now 🙂 On April 14th I flew back to Cebu and I will be writing about that trip next. I returned to Malapascua Island (one of my favorite dive destinations in the Philippines) and then headed down to Dumaguete to participate in a photo contest.
I hope you enjoy reading my blog. If you have, don't miss my next post! Visit the "Subcribe" page and sign up. It only takes a moment. Lot's more coming! 🙂