On Friday, April 14th I caught a Cebu Pacific flight to Cebu City. I was on my way back to Malapascua Island. The flight was uneventful. Leaving the terminal, there was a long line to get a taxi. A few people went ahead and got a Yellow Airport Taxi, but not as many as you would think given the line.
As I noted in my blog about my last visit to Cebu, the yellow cabs are nearly twice as much! After waiting in line a few minutes, I noticed that there were a few white taxi's showing up to pick up specific people. That's when I remembered I had Grab on my smartphone. I contacted Grab via the app on my phone and less than 10 minutes later I had a cab pulling in to pick me up! Much quicker than waiting in line! I did pay an extra 70 pesos, but that was well worth it.
I had waited to long to make a reservation and was unable to get a room at Kiwi Lodge where I normally stay. Before I flew out of Clark, I booked a room at Travelbee Business Inn through the Agoda app on my phone. The location wasn't as good, but it met my criteria of being under 1500 pesos a night. I dropped off my bags in my room and then walked down the street to grab a bite to eat at Jollibee. Then back to my room and bed.
The next morning I was up early. I showered and repacked my bag, then took the elevator down. I had a quick cup of coffee, then checked out. The security guard hailed a taxi for me. I had the cab drive me to an ATM so I could get cash, then to the North Bus Terminal. I just caught a bus as it was pulling out! 5 1/2 hours later I was back in Maya. A short wait for a ferry and I was on my way across to Malapascua Island! The ferry dropped it's passengers on Bounty Beach and I walked along the beach until I reached Evolution.
I had emailed Matt Reed, one of the owners of Evolution Dive Resort, the day before to let him know I was on my way back. He had emailed me back to see if I'd booked a room yet since it was Easter weekend, accommodations were very full! I've often advised people online of the importance of having reservations during the holidays in the Philippines. As it turned out I had also emailed Sharks Tail about a room and received a prompt response from Andy. I knew Evolution was going to be full! Matt was correct about it being a holiday and there being a lot of people on the island… I got the last room available!
After leaving the ferry, I went to Evolution first because I wanted to dive that day. It'd been almost 3 weeks since I'd been in the water! I was too late for the afternoon dive, but I had plenty of time to dig out my gear and get my camera equipment set up in preparation for a night dive. After that I went to The Sharks Tail Resort to check in.
As I mentioned in my last blog post about Malapascua Island, The Shark's Tail Resort is about a 5 minute walk away from Evolution. It's not on the beach, but it does have a swimming pool which is nice. There is a nice little bar there and the restaurant has good food at decent prices. Once I was checked in to my room, I headed back to Evolution. Let the diving begin!
I'm going to do this post a bit differently since I posted so recently about diving with Evolution. I'll skip a lot of the logistics. I made my first dive of this visit on the 15th at Lighthouse and the last dive was the morning thresher shark dive on the 19th at Monad Shoal. I did 12 dives total on this visit. I arrived on a Saturday and left on Wednesday to travel to Dumaguete for a photo contest.
I dived Chocolate Island and Gato Island. I also did a dive on Secret Wall and Bugtong Bato. I dived Bantigue twice (once in the afternoon and once at night). I dived Monad every morning I was there as I'm always looking for a better thresher shark photo than the ones I've taken before!
On the way to Lighthouse (so-called because it's directly in front of Malapascua Island's lighthouse) for the Mandarinfish mating we could tell it was going to rain. We got a few sprinkles on the way over. We got geared up on the ride there (only about 15 minutes). We were in the water quickly and the dive started at 5:24 PM.
Lighthouse is an area of mostly broken and damaged corals. The damage is from another time when scuba diving around the island was virtually non-existent and fisherman used whatever worked in order to feed their families. What worked, was dynamite and sadly there are many damaged areas. It's not enough to pass judgement, or laws against these types of destructive practices. People will do what they have to in order to survive. It's important to develop an alternative. Thanks to eco-tourism, now there are alternatives and a significant number of people now make their living through the tourist trade here. This has led to protections being put in place to protect the environment as now what you can see is a more valuable resource than what can be taken from the sea.
The main area that mandarinfish can be seen around dusk virtually every day, is areas of staghorn coral, which as I said earlier are damaged and broken. Lights will scare them so most guides will filter their bright dive lights through their fingers in helping people spot the mating dance. In my own case I have a Light and Motion Sola Photo 1200 that I attach to the top of my housing. It also has a 300 lumen red light that doesn't seem to have much affect on fish which has come in handy in helping me spot and get close to them.
Right on schedule as it got dark, the mandarinfish came out to play! After seeing the mandarinfish, I moved out of the way so others could see them and amused myself by practicing with my new snoot setup that I'd just purchased that week. I had visited my friend Jovic Santos in Manila earlier in the week. Jovic owns a chain of shops in the Philippines known as Stride & Stroke, that cater to outdoor and water sports, including diving and snorkeling of course. Jovic's passion though is underwater photography. He also owns and operates "Splash UW-Photo-Video-Pro Shop" in Manila. I stopped by to chat when I'd come back from Cebu the end of March. It was the first time we'd seen each other since my heart attack and he was really happy to see me and hear that I was diving again. Jovic is the primary sponsor of a yearly photo contest for amateur photographers. I'll write more about that in my next blog post.
I moved around the periphery, photographing whatever caught my eye. There were anemonefish, cardinalfish, soldierfish, and squirrelfish. As it got dark and the mandarinfish mating finished, we started to see more crabs and pipefish. I've seen octopus and frogfish on this site during past dives here. The dive ended up at 53 minutes with a maximum depth of 35 feet. Water temperature was 77 degrees Fahrenheit.
When we came up it was pouring down rain! I stripped off my wet suit on the way back and stored it with my other gear in my crate. When I left the boat I had my camera and my now soaking wet t-shirt. As I mentioned earlier, we'd gotten a few scattered showers on the way to the dive site and my shirt had gotten damp. I decided not to put it in my dry bag because of that. I used one of the outdoor showers at Evolution to rinse off, then dried off and purchased a new t-shirt in the office. By now the rain had stopped. I had dinner then headed to my room.
I wrote about Monad Shoal last month and the logistics at Evolution, so I will just write about the dives this time. I did 4 dives at Monad during this visit. As I mentioned in my last blog article on Malapascua Island, there can be several days a month when sharks are not seen. Lot's of things affect sightings. Everything from what phase the moon is in, too to much current.
As luck would have it, I did run into some weather (the rain that showed up the first night was a strong indicator). Not terrible weather, although we did get some scattered showers the next couple of days. There was some wind and current was running. Current can affect shark sightings.
The first day I saw a pufferfish resting inside a bowl formed by coral. I also spotted anemonefish, triggerfish, clam's, and of course nudibranchs, but no sharks. The second day I saw one thresher shark, very briefly at the beginning of the dive. Also saw what appeared to be the same pufferfish resting inside the same coral formation as the day before! Spotted a nudibranch (Chromodoris magnifica), a dragon sea moth creeping along, anemone's, clam's, and more nudibranchs. On the third day, I grabbed some photos of a jellyfish up in the water column. There were trevally swimming by and all the usual suspects… but no sharks.
The 4th and last day I had a good feeling about it. The wind had died down and there was very little current. As we were getting ready to descend, Jo, who knew I'd dived the previous three mornings with only one brief sighting, called out to me and asked how many sharks we would see today? I said the first number that popped into my head "Five"! As it turned out we did see five sharks! We were observing sharks almost the entire dive. Awesome!
This is one of the reasons I encourage people who are planning on visiting Malapascua to plan at least 4-6 days if they can, depending on how many dives they are doing a day. I've stayed as little as 4 days twice now and still saw sharks. Normally in the past I stayed at least a week and once stayed for a month! Yes I really like the diving in Malapascua.
On Sunday, April 16th after diving Monad Shoal, I went to Chocolate Island in the morning. Chocolate Island is about 30-35 minutes by boat and is between Malapascua Island and Cebu. I really enjoy Chocolate Island. There are normally a good variety of nudibranchs there and the corals are in really good shape. It's fairly shallow and the walls of the island taper down to a sandy bottom. I've photographed frogfish there in the past, although I didn't see any on this particular morning. I was in the water at 10:08 AM. Chocolate Island is also known for nudibranchs and I would see 5 different species by the end of the dive. There were the usual lizardfish waiting for a meal to swim by. Neon damselfish were everywhere. Grouper (lapu-lapu in Tagalog), a toby with a cleaner shrimp hitching a ride, and threadfin hawkfish it seemed everywhere you looked! Saw a few different species of pufferfish and some beautiful anemone's. Cardinalfish, lionfish, more toby's, a seahorse, and a white-eyed moray. Anemonefish (of course), and a couple of small cuttlefish. The great variety and beautiful corals is one of the things I love about Chocolate Island. I would end up with a 56 minute dive with a maximum depth of 48 feet. Water temperature was 79 degrees Fahrenheit.
The afternoon dive was at Secret Wall. Secret Wall is another site that isn't that far from the dive op, so we start getting ready once the boat pulls away. The dive started at 1:49 PM. This dive has a short wall that bottoms out into a wide sandy area. On top of the wall, there is a large area of soft corals, and lot's of life! The dive started with a nudibranch, and as we made our way along the wall, there were lot's of things to see. The "usual suspects" I've called them before 🙂 Hawkfish of course. Lionfish, pygmy seahorse, beautiful corals, more lionfish, filefish, crinoids, wrasse, damselfish, grouper, goatfish in the sandy areas… a really nice dive! I ended up with a 43 minute dive with a maximum depth of 79 feet. Water temperature was 76 degrees Fahrenheit.
On Monday, April 17th the morning dive after Monad Shoal was Bugtong Bato. The dive site is about 15 minutes away of the northwest corner of Malapascua Island. It of course has another wall and also a sloping reef that bottoms out around 100 feet. I would hit a maximum depth of 85 feet on this dive. I saw 4 different species of nudibranchs (can you tell I'm a bit obsessed with nudibranchs?), and lot's of beautiful corals. Butterflyfish were everwhere, as well as all the usual reef fish, from hawkfish, to damselfish, to wrasse, and anthia's. A very nice dive that lasted 47 minutes. Water temperature was 78 degrees Fahrenheit.
The third dive of the day was at Bantigue. Bantigue is very close by. By the time you get your wetsuit on, it's time to start gearing up! It's a nice dive with mostly sandy bottom, so a muck dive. You can see a bit of coral towards the end. This dive is really about macro for the most part. I spotted a tiny cuttlefish near the beginning of the dive that was probably less than six inches! There was a hermit crab crawling along the sandy bottom. A mantis shrimp peering out of it's hole. A glass anemone shrimp hiding between the branches of a soft coral. Flounder which is fairly common on the sandy bottom. Goby's were in abundance. I spotted a very tiny nudibranch. It was hard to tell the species it was so tiny!
A couple areas of debris had coral growing on it and a retinue of cardinalfish surrounding it, facing into the slight current. I'd been asked ahead of time if it were okay as it was me and two new divers. We ended up back at the boat after only 39 minutes. I still had over a 100 bar left in my tank! I'd half expected it though, so I wasn't really surprised. I could have opted to do a different dive. Maximum depth was 46 feet. Water temperature was 78 F.
The fourth dive of the day was again at Bantigue and was a night dive. The dive started at 5:54 PM. This would turn out to be a really great dive. I was diving with a diver from Hong Kong who was also experienced. Started with pipefish right at the beginning, followed by an anemone crab. We would see anemone crabs throughout the dive which is common on night dives in Malapascua. There was a lizardfish, damselfish, and a pufferfish. We saw banded boxer coral shrimp in several places.
A large leopard flounder and then a small devil scorpionfish, half buried in the sand that reminded me of how important it is to check whenever you're close to the bottom! A couple of old tires proved to be home to numerous banded boxer coral shrimp and little tiny transparent shrimp! I believe they were Urocaridella antonbruunii. They're so tiny it's always a challenge to get a photo.
I saw a couple of tobies that were still active. Saltwater catfish, a shortfin lionfish out hunting (I rarely see them during the day), then an octopus that I used my red light to get close to for a photo. A flatworm, another shortfin lionfish (this was the red variation), and a filefish. It turned out to be a very productive dive! The dive was 64 minutes with a maximum depth of 46 feet. Water temperature was 80 F.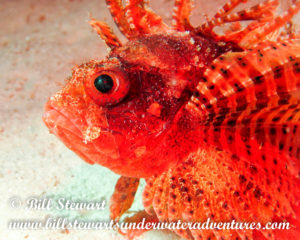 On Tuesday, April 18th, after the morning dive at Monad, I threw my camera battery on charge in preparation for the trip to Gato Island. My Canon G16 battery is normally good for 3 dives. Occasionally, depending how much I shoot, it could die towards the end of the 3rd dive though. I didn't want this happening at Gato!
Gato Island is about 45-50 minutes by boat from Malapascua Island. It's a day trip, as I've written before. Because of the distance, you go over and do two dives with lunch in between before coming back. The weather had really cleared up and it was a beautiful sunny day!
The first dive at Gato was the Cave which is actually a tunnel going under the island. The dive started at 10:17 AM. Right at the entrance to the tunnel I photographed a Phyllidia varicosa nudibranch. There were the usual hermit and anemone crabs inside the tunnel and a small school of catfish. As we approached the exit we could see a whitetip reef shark that was actively swimming about and I took a photo. As we got closer it turned and swam towards me and then right past me, almost close enough to touch! I snapped a photo as it went by, but unfortunately the photo is a little soft, probably from my moving out of the way!
As we exited the tunnel I photographed a lionfish that seemed like it wanted to pose for a few photos.
A huge crab was scuttling along across the rocks and I photographed it as well. It continued to be a typical dive at Gato Island. Lot's of life and lots of variety.
Cardinalfish, damselfish, ornate ghost pipefish, lizardfish, threadfin hawkfish, more nudibranchs of course. A grouper that actually held still long enough for several shots (imagine that!).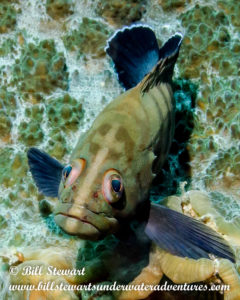 A nice seahorse to finish up with. Very nice dive. Dive time was 59 minutes with a maximum depth of 65 feet. Water temperature was 79 F.
After lunch we moved the boat and started our second dive at exactly 12:30 PM. One of the first things I saw on the second dive was the shed skin of a sea snake. Not surprising as Gato Island is sanctuary and a breeding area for them. There were a couple of species of nudibranchs, one was another Phyllidia varicosa. The other I've not identified yet (I actually have a fair number of those which I'll get around to identifying at some point). The next thing I spotted was a beautiful Thorny Seahorse that was almost completely white. I couldn't remember ever seeing one that color before so I took several photos. After that another nudibranch, this one a Nembrotha lineolata I photographed some of the beautiful corals at Gato Island on this dive.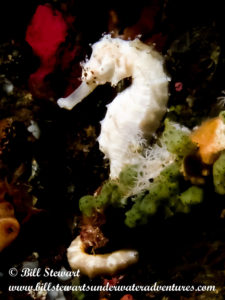 One thing we saw during this dive which was a bit shocking was a large (by comparison) wrasse going after an anemonefish. I didn't see the beginning of it, but the anemonefish was literally ripped apart! Anemonefish can be quite aggressive… I've had them actually nip me while taking photographs. I think it picked on the wrong target!
Orange cup coral and tree corals are some of my favorites because of their color and they're everywhere. I photographed another school of catfish, banded boxer coral shrimp, anemonefish, and pufferfish. More nudibranchs, including a Nembrotha cristata. Squat shrimp, anemone crab, and a grouper to round things out.
My last dive of this visit was on the morning of Wednesday, April 19th at Monad Shoal where, as I described earlier, we would see 5 thresher sharks. After returning from that dive, I washed my gear and sat it out to dry. I had breakfast, then went to my room to pick up my things and check out. I'd packed the night before. I returned to Evolution, settled my bill and packed my dive gear. The desk called someone to help me get my bags to the port area. Quite a feat to get my dive gear bag, my Pelican case for all my camera gear, and 2 people on a motorbike!
At the port I bought a ticket on the ferry that dropped us at the old port. I hired two motorbikes to take me and my gear to the new port where I could catch a bus back to Cebu City. 50 pesos each. The bus left at 12:05 PM and I was at the South Bus Terminal in Cebu City by 5:15 PM. From there I caught a taxi to the Travelbee Business Inn for a good nights rest before heading to Dumaguete.
I'm gaining… less than 3 weeks behind now 🙂 I'll be headed to Anilao on Friday, May 12th so there will be more after I finish Dumaguete which I've already outlined. Stay tuned!
I hope you enjoy reading my blog. If you have, don't miss my next post! Visit the "Subcribe" page and sign up. It only takes a moment. Lot's more coming! 🙂