I was up early on Sunday, April 23rd. After breakfast I grabbed a trike out front and headed to the dive shop. This was the day we were going to Apo Island and I was looking forward to that!
Apo Island is considered one of the top diving and snorkeling destinations in the Philippines. It's located about 19 miles (30 kilometers) south of Dumaguete. From Dauin it's about a 30-45 minute boat ride. The marine habitat around the island is a marine reserve. There are over 650 documented species of fish and over 400 species of coral found here. Sport Diver Magazine listed Apo Island as one of the top 100 dive destinations in the world in 2008.
As we had the previous two mornings, after meeting at the dive shop we were transported by jeepney to the Dauin Marine Sanctuary where a boat was waiting to transport us to Apo Island. We made a stop at a convenience store on the way to purchase snacks. At Dauin our gear was loaded on the boat for us. Once all the gear was loaded and everyone was aboard, we departed for Apo Island.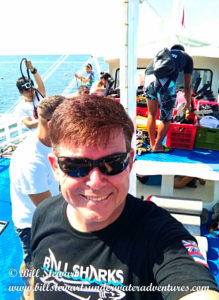 The weather was beautiful and sunny as we headed across. A nice morning to be out on the water I thought! We had a large group of divers with us, probably 20 at least. There was music being played and everyone was enjoying themselves. Once we arrived there was a dive brief and then we all started gearing up.
The first dive was at Chapel Point which gets it's name from a church overlooking the dive site. Although there were a fair number of boats there and quite a few divers, it didn't feel crowded. My dive started at 9:44 AM. Where we dropped in was about 40 feet deep. It was a sandy area with patches of coral that sloped towards a drop-off and a very nice wall.
As I moved towards the drop-off I saw a nice anemone with a female tomato anemonefish. Even though I've photographed anemonefish many times I can never resist taking a few more 🙂 There were lots of anthia's and damselfish. As I dropped down the wall I saw bigeyes, squirrelfish, and grouper. The corals were in really nice shape. There were gorgonian seafans. Lot's of tube sponges. There were ledges and overhangs with plenty of fish underneath. Towards the end of my dive I found a nudibranch (Chromodoris magnifica) and took several photos. A very nice dive! My dive time ended up at 52 minutes with a maximum depth of 95 feet. Water temperature was 79 degrees Fahrenheit.
After everyone was back on the boat we moved to the second dive site which was Katipanan. After our surface interval and another brief, we started entering the water. My dive started at 11:55 AM. Katipanan is a gentle slope. It has lot's of corals. Soft corals, huge brain corals, lettuce corals, and numerous fish. Lot's of damselfish, anthia's, butterflyfish, triggerfish, and tobies. I took a photo of a titan triggerfish chomping away and couldn't help but remember being chased by one last August in Puerto Galera! (read about it here in my blog). I ended up with a 67 minute dive with a maximum depth of 80 feet. Water temperature was again 79 degrees.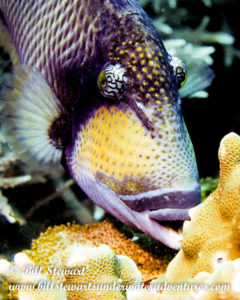 The boat moved again, this time to Largahan. After our surface interval and our last dive brief of the day we geared up and began stepping into the water. This dive site has lots of soft corals on the shallow side. As you move deeper there are more hard coral formations, with ledges and undercuts and a fair sized wall. What was interesting about this site is the streams of bubbles coming up from the sand that are caused by geo-thermal activity. My dive started at 2:40 PM. I was one of the first in the water and took advantage of that as it was the last dive of the day. I stayed relatively shallow with my maximum depth being only 38 feet. As at the other sites, there were plenty of fish! I saw a nice grouper near the beginning of the dive but was unable to get close enough to get a decent photo. There were plenty of damselfish, anthia's, and wrasse. I photographed a damselfish and a cleaner wrasse. A toby, a lizardfish, then a curious staghorn damselfish that stayed around for several photos.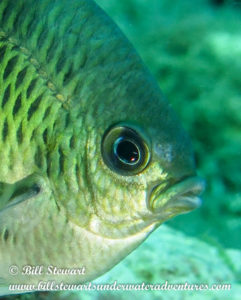 After working the goby for several minutes, I found another lizardfish that I was able to spend some time on also. I took some photos of some of the corals, then another goby to finish up the dive. I ended up with a total dive time of 80 minutes. (No I wasn't the last one out of the water 😉 ) Water temperature was again 80 degrees Fahrenheit.
After recovering everyone we started back to Dauin. I sat at the front of the boat and reflected a bit on the way back. The sun was descending to the west. It's quite beautiful here! I love being out on the water. Perhaps it's the sailor in me, but some of my best memories are out on the ocean or in it! I thought how fortunate I am to be here and doing the things that I love to do. Each day is a gift. It's so easy to forget that sometimes! I'd had a great weekend of diving!
After arriving back at the dive shop, I rinsed my gear and let Snoopy know I was finished diving as I needed to review photos and make picks so I could make the deadline the next day. I didn't think I'd have time to dive again and still get that done.
The next day, Monday, April 24th, I met my friend Mark for lunch. Mark suggested the Cafe Racer Diner. He told me it had the best cheeseburger he'd eaten in the Philippines! After lunch, I had to agree! We caught up a bit more on what we'd been doing and Mark talked about his plans for the dive resort that is being built at Dauin. After lunch Mark had a meeting with his architect and I went along. I believe it's going to be a really great resort! It's in a perfect location on the beach with the Dauin Marine Sanctuary being directly in front of it!
There will be deluxe rooms, a home for the owner, a meeting room/lounge, and a gym. There will also be standard rooms and backpackers as well. One of the things Mark is going to offer is the opportunity for experienced divers to do their own dives. From his place you can literally just walk into the water and you're in the marine sanctuary! After a checkout dive (and a waiver of course) he's going to let experienced divers buddy up and do their own dives at a reduced rate. This is a great idea in my opinion. I know that all of my diving in the US is done this way. All my diving in Japan was this way. All of my diving in Guam was like this as well. 99% of my diving in the Philippines has been done with a guide, because that's the way they do it here. Of course it's also very inexpensive to have a guide compared to the US or Australia too!
After the meeting with the architect, Mark drove me over to House Reef to pick up my gear. I introduced him to Snoopy. It turned out that although they had never met, Mark did know him by reputation. They started talking and really hit it off. By the time we left they were discussing doing some business together. I had copied my entries for the photo contest to a USB drive and took care of getting those entered while Snoopy and Mark talked.
Mark dropped me off at Gabby's afterward. I went up to my room and started packing. After packing, I took a shower, and was on the computer for a bit, then went down and had dinner. I turned in early.
The next morning I checked out. I was in a trike at 7:30 AM on my way to the port. The trike ride was 50 pesos (around $1 dollar). All of the ferry lines were near the gate to the ferry terminal, except Ocean Jet. That turned out to be across the main street before entering the area of the gate. Once I got straightened out and had my ticket I went back to the gate where I was checked by a security guard and waived through (you have to have a ticket to get in). I paid 15 pesos for a terminal fee and 80 pesos portage fees for my dive bag. They took the big bag and I held on too my pelican case that my camera and electronics are in. I was on the ferry by 8 AM.
The ferry left at 8:30 AM and we arrived in Tagbilaran at 10:30 AM. After leaving the ferry I was directed to go around to the ticket window in the front and show my ticket. Then I had to pass through security again to get back into the terminal (no this didn't make much sense to me either!)
While sitting in the terminal a guy walked by me who had a pelican case very similar to mine (except mine has stickers all over it). I noticed from his hat that he was a diver and we struck up a conversation. We introduced ourselves. He turned out to have just been diving in Dumaguete and was on his way to Malapascua where I'd been the week before. We chatted in the terminal while waiting for our ferry.
We were both in business class and we continued our conversation once we'd boarded. We expressed some concern to each other that our gear had made it on the ferry and I offered to step out and check. He pulled up a photo of his baggage (two big footlockers and a large bag actually). He commented that was just to make it easier to get help finding his bags, especially if there were a language barrier. Pretty smart I thought! I went outside to check and sure enough everything was there.
After that we started sharing photos that we had (mine on my smart phone and him on his small tablet). One of the first photos I saw I thought looked familiar. Turned out it had been a magazine cover! When he'd introduced himself, I thought the name sounded familiar. I had just met David Fleetham, one of the most published underwater photographers in the world! He didn't say that by the way, I looked him up later. Here's a guy who has had over 200 magazine covers, including the only underwater photo to ever make the cover of Life Magazine! He was a super nice guy and we spent an enjoyable couple of hours talking about photography and places we'd dived.
When we got to Cebu City we put our bags together and I watched his while he went to see if he could find the guy who was meeting him to take him to Malapascua. He came back with his driver and they picked up his cases. We walked out to the main gate, wished each other well and he got in the van to Malapascua and I got in a taxi to my hotel.
The next day I flew back to Clark. This concludes my trip to Dumaguete…. Finally! Aren't y'all happy I'm finished? 😉
A short epilogue: Results came out a few days ago and I did not make the list of finalists in the photo contest. I wasn't surprised. I thought my photos were fine, but nothing exceptional. It's a very demanding contest and the competition was quite stiff. I saw some of the photos my fellow competitors were shooting and I was really impressed! What was important to me was that I had a good time doing the things that I really enjoy. I also feel that the conditions of the contest caused me to think about some things that will help me be a better photographer. Always striving to be better is a worthy goal in itself!
I chatted with my friend Mark in Australia yesterday and he and Snoopy have decided to work together on some things. Mark was quite happy about that as he would not have met Snoopy if not for me diving with him during the contest. They're setting up an area now for Snoopy to work from right there on the beach at the Dauin Marine Sanctuary. For now Snoopy will be the instructor for anyone booking a course (Mark is an avid diver, but not an instructor). Anyone booking dives will be diving through Snoopy until they are fully operational. Snoopy will be able to book accommodations at the resort for his guests (as I mentioned earlier he has limited rooms). They will work together to fill boats for Apo Island, Oslob, and Siquijor Island trips. It's a win/win for both of them. As of now, the fence has been completed and construction has started on 2 deluxe rooms and a home for the owner. It's going to be hard to beat the convenience of being able to dive where you are staying! I've been invited to come back down and I fully expect that I will! I'm sure I'll be writing more about his place in a future blog post!
Almost caught up! I was diving in Anilao just last week and I'll be writing about that trip next. One of the things that people have lamented about for as long as I've been aware of Anilao is the way "pricing" is done there. It can be quite expensive for divers traveling alone. Well I've discovered a place that is quite reasonable and I'm going to write about it in my next blog post.
If you're enjoying my blog please subscribe so you don't miss a post. Just click on the subscribe button. It will only take a moment!
Until next time!