After the days diving we stripped off our gear and put it in our crates for transport back to the dive shop. We then loaded into the jeepney for the ride back. There seemed to be a bit more traffic on the way back. Once at the dive shop, I gave my camera gear a good rinse, said my goodbyes, and walked the half block to the main road. From there I waved down a trike and headed back to Gabby's.
After a shower, I went down and grabbed some food. Breakfast of course 🙂 Afterwards, I went back to my room, put all my batteries on charge, worked on photos a bit, checked Facebook, and went to sleep early.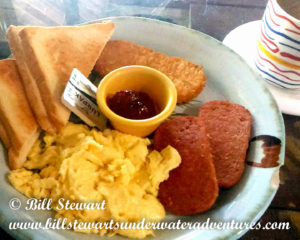 The next morning, Saturday, April 22nd, after a good nights sleep and breakfast, I set up my camera equipment with fully charged batteries. Then went out front and waived down a trike for the ride to dive shop. There we had a repeat more or less of the day before. A small amount of socializing. Verified all our gear was back in our crate, and then we loaded up for the trip to Dauin.
The dives on the second day were boat dives and we were to visit some sites outside of the sanctuary. The sites were all close by and we started gearing up once everyone was on the boat and we took off. The first dive site was called San Miguel (maybe after the beer?). It was mainly sandy bottom with some debris and coral here and there. My dive started at 9:17 AM. Although we dropped in with guides, we became spread out fairly quickly as we found subjects to focus our attention on. At the beginning of the dive I spotted a couple of sea snails creeping along the bottom. Then I saw a sunken piece of driftwood with a few gobies on the top. I saw that as an opportunity to work with the snoot I'd just purchased for my strobe.
What a snoot does is restrict the light from your strobe to a smaller area. They're used to highlight the subject or certain areas of the subject. I'd used them in studio photography, but never underwater. When I was in Singapore for ADEX, one of the seminars I attended talked about the use of snoots and I was intrigued by the idea. When I visited Splash in Manila I talked to Jovic about it and bought one to add to my equipment. One of the things Jovic said to me was that some of the subjects I photographed would often blend into the background. Maybe not surprising when you consider that camouflage is a tool used by both predator and prey in the ocean. A snoot could help separate the subject from the background. The goby seemed a perfect subject to practice this on! I ended up spending a good period of time there… as long as I could get away with until my computer told me it was time. This was the maximum depth of my dive at 68 feet.
As I worked my way back up the slope, I saw a squat lobster on another piece of sunken driftwood. Took a few photos, then moved towards the area where the boat was moored. It was running close to an hour at this time and I could see other divers getting back on the boat. Although we'd been a bit spread out, we had always been in sight of other divers. Depth here was maybe 15-20 feet. By the time it was clear, my safety stop was finished. My total dive time ended up at 63 minutes. Water temperature was 80 degrees Fahrenheit and as I mentioned earlier, my maximum depth was 68 feet.
The boat moved to the second dive site called Ginaman. Most of the photographers spent the surface interval chatting and sharing what they had shot with their friends. When it was time we geared up and stepped in for our second dive. This dive started at 11:33 AM. Almost immediately I discovered that a large pillar of concrete almost completely encrusted in corals with plenty of life on it in less than 15 feet of water. I took my time moving around it. First was a juvenile lionfish. After taking several photos, I moved on and discovered a seahorse moving along the base. After photographing that, I found a banded boxer coral shrimp. Then another seahorse! Then a shortfin lionfish (also a juvenile), then a juvenile filefish. A little toby, then three more shortfin lionfish! Of course there were the usual cardinalfish, wrasse, and damselfish. It was a very small area, not more than a couple of yards on a side, but it was teeming with life!
From there I moved out onto the sand and seagrass. I found a bottle with a crab dug in underneath. Commensal shrimp, there were a few fire urchins about. I found a small white sea hare. Then some coral outcroppings with Christmas Tree worms, and an anemone with saddleback anemonefish. To finish off the dive I photographed a small school of juvenile catfish. I was right underneath the boat and waiting for people to get on. They came along, feeding and swarming along the bottom as everyone who dives has seen numerous times! I thought, "why not?" and snapped a few shots! The second dive ended up being 69 minutes long with a maximum depth of only 17 feet. Water temperature was 81 degrees Fahrenheit. I ended up back on the boat with my tanks still over half full!
At this point we headed in to the beach at the marine sanctuary. I was invited to have lunch, but I opted to stay on the boat and take a nap! I think I was still recovering from my trip down from Malapascua!
After lunch, everyone started returning to the boat. For the third dive we dropped in a site called Punta. My dive started at 2:59 PM. Punta also turned out to be a sandy bottom with some coral here and there. I almost immediately discovered a waspfish! I haven't seen them very often so I was happy to find one! The last one I'd seen was in Puerto Galera last year. I took several photos and moved on.
I spied a goby and took a few photos. As I kicked away from the goby I saw a small frogfish! As I began to work around the frogfish it occurred to me that I'd never gotten a picture of one with it's mouth open. I'd heard that all one had to be was patient and here was an opportunity as I was in a group of people who could quite easily spend a significant amount of time photographing just one subject to get it right! After shooting several angles and checking exposures. I settled down to wait. 30 minutes later the frogfish yawned! After getting the shot from the side I knew that I was going to have to do this again at some point to get the same shot from the front. Still I was pretty happy to get the shot!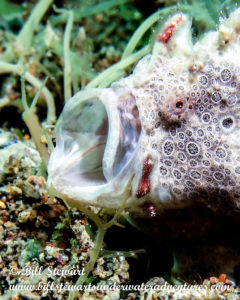 After getting that shot I started towards the guide and the other photographer curious about what they were shooting and had a crab come scuttling along. As I maneuvered for a shot, he seemed quite willing to attack me if I got to close! After taking a couple of photos I let him go! I'd spent so much time on the frogfish, that ended up being my last shot of the dive! I checked my time and it was time to head for the boat so I caught up just in time. I never did see what the other photographer was shooting! I ended up with a dive time of 62 minutes with a maximum depth of only 13 feet! Yes I had well over half a tank left again! 🙂 Water temperature was 82 degrees Fahrenheit. Not surprising it was a bit warmer given the shallow depth.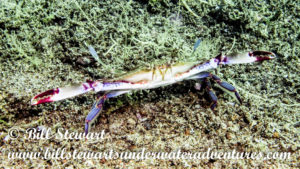 We headed back to the marine sanctuary after the dive where we offloaded and were transported back to the dive shop in Dumaguete. Again taking about an hour with traffic. At the dive shop, it was a repeat of the day before. I rinsed my camera equipment, said my goodbye's and walked down to the main road to catch a trike to the hotel.
I grabbed a quick shower and then went to meet my friend Mark Gormley. Mark and I met the first time I came to Dumaguete in December 2009. Mark is from Australia where he's in manufacturing. His wife Marmae is from Cebu. When he and I dived together at Dauin he showed me his lot which is beachfront at the Dauin Marine Sanctuary and talked about his plans to someday build a dive resort there. Although it's been 7 years since we'd seen each other, we'd kept in touch via Facebook and occasionally chatting. By sheer coincidence he and his wife were in town the same time I was there. He'd messaged me a couple of weeks earlier and I'd let him know that I was going to be there so of course we made plans to get together.
Mark called me on the phone from Australia last December and talked to me for 3 hours after I got out of the hospital in Singapore following my heart attack. Mark also had gone through a heart attack a few years ago and he wanted me to know that it didn't mean that I wouldn't be able to dive again.
I'd been told by the cardiologist that did my first angioplasty and stent in Singapore (and I have to say also saved my life), that I shouldn't be in denial and that I'd likely never dive again. Mark assured me that lots of people, including him, did come back to diving after a heart attack so this was not necessarily true. I was really appreciative of that at the time as although I'd put on a positive face for "Facebook", I was quite depressed about the possibility that I wouldn't dive again. I never knew about Mark's heart attack as he'd never mentioned it to me when we'd chatted.
I met Mark and his wife and niece at the Hayahay which is a great local restaurant. They will let you pick out your seafood and cook it to order. They have good pizza's too! We had an enjoyable evening catching up. Mark has spent a lot of time in the Philippines and has been coming here even longer than I have. He's a wealth of knowledge on the Philippines and also on the local dive scene. They gave me a ride back to Gabby's and we made plans to try and see each other again before I left. I'll talk a bit more about the resort he's going to open in my next post.
My next post will start with our day trip to Apo Island. I'll be working on that tomorrow so stay tuned!