After leaving Venice on Monday, August 14th I was still debating where I would go next. I stopped and got something to eat at Burger King (no breakfast or lunch) and thought about it. After checking Google Maps, I decided that Key Largo was doable and got back on the road. A little after 9 PM I was there!
Why do divers travel from all over the world to visit Key Largo? Key Largo caters to divers in a big way and this has been going on for decades! John Pennekamp Coral Reef State Park was established back in 1963, making it the worlds first underwater park! It covers approximately 70 nautical square miles. With the addition of the adjacent Florida Key's National Marine Sanctuary, established in 1990, this protected area now covers approximately 178 nautical square miles! It is approximately 25 miles in length and extends 3 miles into the Atlantic Ocean. Within it's boundaries are mangrove swamps, seagrass beds, and of course coral reefs. I did my first trip to Key Largo back in 1983 and am always happy to visit!
On the way there I did a search on Agoda and found that about the cheapest room I was going to find was $99 bucks a night. I stopped at one place that didn't come up on Agoda, but they wanted $105 a night plus tax for an RV! I asked about Wi-Fi and was told that there were hotspots around the property but not inside the accommodations. That actually made a bit of sense, since they're accommodations seemed to be cabins and RV's, but still I felt a bit steep for what I was getting. I opted to keep looking.
The next place I tried was one of the ones that had come up on Agoda. Key Largo Inn was $99 bucks a night and breakfast was included. There was a pool (that I ended up not using) and nice rooms with wi-fi. While talking with the owner I mentioned I was there for diving and he told me they had a dive shop across the street. I made the decision to stay and checked in. With tax the room came too $111.38 a night (a little steeper than I normally pay in the Philippines to be sure!). I unloaded my gear and then after a quick shower, I worked on finishing up my previous blog post on diving in Venice.
The next morning (Tuesday, August 15th) I was up about 8 AM. I wandered over to the bar/restaurant where they had plenty of fresh pastries, fruit, yogurt, and coffee. I got myself a muffin and a cup of coffee. After I finished eating I walked across the street with my coffee to Scuba-Fun Dive Center. There I met Dan who initially told me that it was to late to dive that morning. After about 5 minutes of conversation and discovering that I had my own equipment and was experienced he asked me to give him a minute and let him make a phone call. He ended up being able to get me on the boat with Horizon Divers for a 2 tank trip out to dive the Spiegel Grove! Since that was the dive I most wanted to make I was very happy!
I ran back across the street, poked my head into the office to let them know I'd be staying an extra day, and then went to my room and grabbed my gear. Everyone was already on the boat when I rolled into the parking lot at the marina about 20 minutes later. I'd made it with about 5 minutes to spare!
The boat was the Pisces with Bruce as the Captain. There was a quick brief and the boat got underway for the Spiegel Grove. I started setting up my gear as the boat pulled away from the dock.
The USS Spiegel Grove (LSD-32) was a Thomaston-class dock landing ship constructed by the Ingalls Shipbuilding Corporation in Pascagoula, Mississippi. She was laid down on 7 September 1954, launched on 10 November 1955, and commissioned on 8 June 1956. She spent the greatest part of her active service participating in amphibious exercises as part of the US 2nd and 6th Fleets. She made two goodwill tours to Africa carrying tons of supplies. In May 1962 she was one of the ships supporting Scott Carpenter's Mercury-Atlas 7 space flight. The Spiegel Grove's nickname was "Top Dog" and as I've seen in many Navy ships this was incorporated into a ships logo that can still be seen emblazoned into the ships deck in one of the passageways. In 1974 she participated in the evacuation of American citizens from Cyprus and performed this service again in 1976 in the evacuation of Lebanon.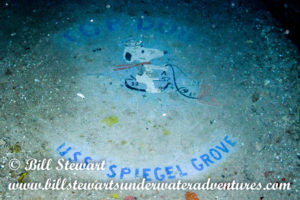 USS Spiegel Grove was decommissioned on 2 October 1989 and her name struck from the Navy list on 13 December 1989.
She was then transferred to the United States Maritime Administration and the James River Reserve Fleet near Ft. Eustis, Virginia. On 13 June 2001, the Spiegel Grove was transferred to the State of Florida Fish & Wildlife Conservation Commission, Largo, Florida. The ship was to be sunk near Key Largo as part of the artificial reefs program. After delays due to red tape and financial problems in preparing her to be sunk, she was finally moved from Virginia to Florida in May 2002. $1 million dollars was spent on preparation.
On 17 May 2002 she sank prematurely and ended up with her stern resting on the bottom and her bow sticking out of the water! To make matters worse, she was upside down! Over a 2 day period, 10-11 June 2002, and at an additional cost of $250 thousand dollars, the Resolve Marine Group got her rolled over on her starboard side and laying on the bottom. She was opened to divers on 26 June 2002. At 510 feet long and 84 feet at the beam, the Spiegel Grove was the largest ship ever to be reefed at the time of her sinking (bigger ships have been reefed since). The Spiegel Grove proved to be enormously popular with scuba divers performing an average of 50,000 dives a year on her the first two years! Just 3 years later after Hurricane Dennis passed by in July 2005, divers were surprised to find that the storm at righted the ship and she was now sitting on her keel!
The Spiegel Grove is located 6 miles off Key Largo on Dixie Shoal in the Florida Keys National Marine Sanctuary. She sits in a 134 feet of water with her top deck at 60 feet. This is considered an advanced dive due to the currents. Every time I've dived it there has been strong current there and this is considered pretty normal due to the location. Not a dive that you want to be fumbling around on. A diver really should be comfortable in the water to make this dive.
I'd been asked before I left the dive shop if I wanted to hire a guide and I'd said no, they could just buddy me with someone on the boat. As I was getting my gear setup I met DJ Hall who was my buddy for the morning and it turned out was also an instructor for Horizon Scuba. We turned out to have quite a bit in common as we'd both served in the United States Navy at the same time. We had both been Petty Officer First Classes, and both served our share of sea duty which gave us plenty to talk about! DJ also, it turned out, teaches tech diving and we chatted about that a bit as well since I'm thinking about taking a course at some point. He'd gotten a call and asked if he wanted to go dive the Spiegel Grove and he said of course he said yes! That worked out pretty well that there were openings and we both got to dive 🙂
Once we arrived at the site, the boat was tied off to a mooring buoy and lines were rigged. As with other boats I've dived with where we were off-shore with current, a trail line consisting of about 50 feet of line with a float on the end was attached to the stern of the boat. From the stern to the mooring line a tag line was run. The idea is to pull yourself hand over hand along the line saving your energy for dive. We did a giant stride off the dive platform and then followed the lines down to the wreck.
Our first dive started at 9:48 AM. I was diving 28% nitrox. Once we had pulled our way down to the wreck, we were able to use the wreck itself to block the current. I have to say that I never get tired of diving this wreck. There are tons of fish and it's a very picturesque wreck as well. We planned to explore the outside of the wreck on this first dive and we made our way around the upper deck. I had told DJ before the dive that I would just follow him as photos are more interesting with a diver in the picture. He ended up being a pretty good underwater model! We stopped to take photos of the flag of course and DJ obligingly threw a salute to the flag for me. Rather than using my strobes, I'd opted to use a single video light for photography on this dive.
One of the things that really strikes me about this dive is the huge numbers of fish around the wreck. That we were in a marine sanctuary was quite obvious! There were big schools of grey snapper. I also spotted grouper, angelfish, and of course, barracuda. There were many of "the usual suspects" as I call them as well, including butterflyfish, squirrelfish, grunts, and damselfish. Jacks out in open water, and the occasional school of jacks.
Much of the outer ship is becoming encrusted with coral. It's a really beautiful dive! We explored the outer hull and towards the end of the dive did one limited penetration into the area where he mess deck used to be. The metal pedestals for the tables are still there along with the salad bar! Before I knew it my computer started yelling at me to come up. The maximum depth on this first dive was 100 feet. Water temperature was 83 degrees Fahrenheit. Visibility was easily 50-60 feet. Dive time was 37 minutes. I was back on the boat with about 900 psi. Even with nitrox the computer will normally determine the length of the dive!
During the surface interval I tried to stay out of the sun as much as possible… a sun worshipper I'm not! As we approached one hour we started gearing up. The second dive started at 10:26 AM, exactly 61 minutes after the previous dive had ended. I was diving 28% nitrox again. During this dive we made our way along the superstructure towards the bow. There we made a penetration into one of the forward machine spaces. Down and through and then back out. We then made a penetration down some of the main passageways in the superstructure where I spotted the ship logo I mentioned earlier, on the deck. There were plenty of fish in the dark of the compartments wherever I shined my light. Maximum depth on this dive ended up being 99 feet with water temperature and visibility the same as the first dive. Total dive time was 41 minutes.
After returning to the dock I was able to rinse my equipment there and hang it up in a portable building that Horizon has set up near the dock. The made diving with them very convenient! After stowing my gear away I made the rounds. I stopped at the dive shop and picked up a t-shirt and a couple of books. Later I stopped by the drugstore and picked up a few odds and ends, including some snacks and some drinking water. I also bought myself a Panama Jack hat as I'd decided I was getting a bit to much sun! After that I saw a homemade ice cream shop and decided I needed ice cream 🙂 I am on vacation after all 😉
I went by Scuba-Fun and settled my bill since I planned to leave the next day after my dives. The rate for 2 wreck dives including tanks and weights is $85.00. There was a $12.00 per tank charge added on for nitrox. The reef dives were $80.00 for two dives including tanks and weights. The State of Florida has to get their money too so the total came to $203.18.
I also went by Divers Direct, a dive store chain in Florida with a huge selection of gear. I couldn't resist a t-shirt featuring Florida Keys wrecks 🙂 Dinner that night was at The Fish House, which is a local favorite. They feature fresh-caught local seafood which is quite good!
On Wednesday, August 16th after a good nights sleep I was up in time to pack the car and grab some breakfast at the hotel. My plan was to check out of the hotel before going to dive and then leave after that for the drive north. I was due to be at the dock at 8:30 AM. I was a few minutes early and got my gear sorted out first. I was on Pisces again with Bruce as the Captain. I wanted to do a couple of reef dives. The first dive we went out to dive Key Largo Dry Rocks where the Christ of the Abyss statue is placed.
Christ of the Abyss is a bronze statue. Guido Galletti, an Italian sculpted the original which was placed in the Mediterranean Sea on 22 August 1954. It was placed near the spot where Dario Gonzatti died in 1947. He was the first Italian to use scuba. A second statue cast from the same mold was placed in the waters near Grenada on 22 October 1961. The statue at Key Largo was also cast from the original mold and was a gift to the Underwater Society of America in 1962. On 25 August 1965 it was placed in 25 feet of water at Dry Rocks in the John Pennekamp State Park. The statue itself is over 8 feet tall and weighs approximately 572 lbs. It is attached to a concrete base that weighs 9 tons!
There are several permanent buoys here for boats to tie up too. The reef in this area is shaped like fingers and a diver can follow the bottom along the "indentations" between "fingers". In one of these indentations is found the statue which is quite popular with snorkelers and divers. One thing you don't want to do is touch the statue as it's now completely covered with fire coral! The corals are in great shape!
For this morning I was buddied with a father and son who were on vacation. The dive started at 9:28 AM and would last 59 minutes. We were all told that we should be back on the boat with 500 psi or 1 hour whichever came first. Visibility was not quite as good as on the Spiegel Grove the day before and it was a bit warmer, but the water is quite shallow here. My maximum depth was just 28 feet and water temperature was 86F. Visibility was probably about 40 feet. As you would expect in an underwater park that has been around for over 50 years, there were plenty of fish! Lots of reef fish including parrotfish of various varieties, angelfish, butterflyfish, hogfish, and groupers. Sweepers and damselfish, plenty of grunts, and of course barracuda everywhere.
After seeing the statue, which was swarmed by people (divers and snorkelers), we checked out other areas of the reef. As time started to count down I ran a compass course back to where the boat was and made sure my buddies stayed within sight. When we got back to the area of the boat they went up and I stayed down a bit longer while they were getting onboard, then I surfaced. I still had 1300 psi.
We traveled a fairly short distance and tied up to another mooring buoy. This site was North Dry Rocks. We started getting ready to dive pretty much as soon as we got there. With such shallow depths, no-deco limits really weren't an issue. Our second dive started at 10:43 AM. This dive was very much like the first dive and lots of fish. Similar reef system, but a bit of current this time. Maximum depth for this dive was 29 feet, it was again 86F and lasted 55 minutes. I came back from this dive with almost 1500 psi.
That was it for Key Largo. Once back at the dock I washed my gear and packed it in the car. I took advantage of the outdoor shower there to give myself a good rinse and changed into dry clothes for the trip north. I stopped at Buzzard's Roost and grabbed some lunch (a chicken caesar salad… I have to eat healthy sometimes!) , then headed out. It had been a great couple of days in Key Largo, but the sharks were waiting for me on the Atlantic side of Florida off Palm Beach County and I was ready for them!
If you enjoy reading about my adventures why not sign up so you never miss a post. It will only take a few moments. Just click on the subscribe button!
In my next blog post I'll be writing about my visit to Palm Beach County, Florida where I dived with Deep Obsession. You'll get to hear about my experience diving with sharks in open water (without a cage), and goliath grouper (at 8 feet and over 700 lbs they could swallow a diver whole I think!). Stay tuned!