I arrived back in the Philippines on September 9th. After passing through immigration and customs I changed some cash at the airport, then got a Grab car to take me to the hotel. Although I have days I don't mind haggling with the taxi drivers of Manila over the meter, some days I'd rather pay a few pesos more and ride in a nicer car without the hassle 😀
I had reserved a hotel room at BSA Twin Towers Ortigas, across the street from the rear entrance to SM Megamall, the venue for the DRT Show (Divers, Resort, and Travel). I used the Agoda app on my smart phone for the reservation. DRT brings together many vendors in the dive and travel industry and provides an opportunity for divers to check out the latest in dive equipment and to also explore potential dive destinations.
I arrived late in the day and by the time I'd showered and changed (after almost 24 hours of travel I needed it!) I dropped by the show. I got there in time for the last couple of hours. I walked around and said hi to a few people. I always seem to run into people I know at these shows. It's been true at DRT the last couple of years and also true at ADEX in Singapore in April. For me it's as much a social event as it is an opportunity to check out current trends in dive equipment, investigate future dive trips, and attend seminars on a variety of subjects (underwater photography being a large number of those seminars).
I took in the photo exhibit with entries for this years photo contest. There were some really amazing shots entered. It's always interesting for me as a photographer to look at a photo and think about how they were able to achieve certain shots. When there are so many great photos I'm sure that makes it difficult for the judges!
I ran into Lourdes and Mark Lowings the owners of Bauan Divers Sanctuary who had a booth at the show. I was surprised they remembered me from last year. They invited me to check out their resort again. I told them I would definitely give it some thought (read about my visit there in an upcoming blog post).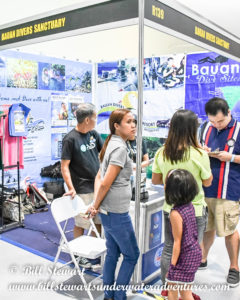 I ran into my friend Jovic Santos from Splash Underwater Photography and Stride and Stroke and we chatted for a few minutes. He was surprised to see me back. My decision to come back had been done fairly quickly and as someone who loves to surprise people, I'd not told anyone in the Philippines I was coming back 🙂
Penn De Los Santos gave a great talk on Sunday about "New Dive Destinations in the Philippines". He's involved with a new dive operation in Batangas that just opened this year and they seem to be doing well. Scott Gutsy Tuason also gave a talk on diving destinations entitled "Diving out of the Box". The last diving destination seminar was about "The Top Dive Destinations with Liveaboard in Indonesia around the Year" given by Parnupong Norasethkamol (Nu)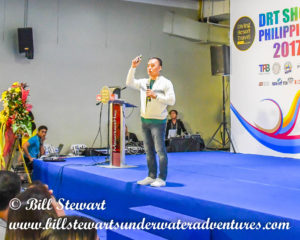 Other highlights on Sunday included underwater photography seminars by Reggie Reyes-"Photography with Purpose", Ivan Manzanares-"Understand the Source of Light-Sun, Torch, and Strobe", Mike Bartick-"Expanding Your Portfolio", Ben Sarinda-"Lighting, Angle, & Composition", and Jerome Kim-"Essential Tips for Underwater Macro Photography".
Marese Secades gave a talk on "Freediving in a Plastic Ocean" about freediving and ocean conservation. Gordos Gojunco delivered a diving safety seminar on "Diving Incident Command System". There was a cave diving seminar given by Bernil H. Gastardo on "The Underwater Caves of Pawod and Casili". Alex Santos gave a wreck diving seminar entitled, "Revisiting a Maritime Disaster".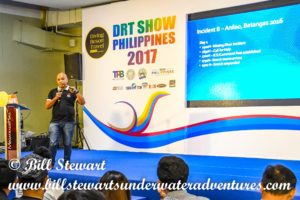 One of the things that I enjoy about DRT is the seminars and although I can't attend all of them I definitely try to make as many as I can!
At the end of each day of the show they had a Lucky Draw. Everyone who attended the show received tickets for a drawing with many great prizes.
All in all it was an enjoyable show. I'm sorry I missed the first day and most of the second, but there is always next year!
I dived almost non-stop for the rest of September and into October. Next up will be diving in Subic Bay. A place I've written about before. This time I gave Arizona Dive Shop a try and I'll be writing about my experience in my next post. Stay tuned!